Northfield Apartments in Caldwell, KS
Welcome Home
Do you need affordable housing and deal with a chronic disability? This complex, constructed in 1994, is comprised of 20 ground-level apartments on 27 acres situated around a clubhouse. Monthly rent is determined individually based on eligibility requirements for HUD-subsidized housing.
Check out our newly expanded eligibility! Individuals applying to live at Northfield Apartments must be income-eligible and have one of the following:
Developmental disability
Physical disability
Chronic mental illness.
Amenities:
Parking
Handicap Accessible
Walk-in closet
Kitchen with built-in breakfast bar
Spacious living area
Conveniently-located clubhouse featuring:
-Laundry facilities
-Banquet room
-Rec room
-38-inch Smart TV
Just 3 miles from Oklahoma border
Sixty miles from Wichita, Ks
Appliances:
Central Air Conditioning
Garbage Disposal
Range
Refrigerator
Oven
Lease
1 Month lease (month-to-month)
Recertify annually
References and background check required
Deposit equal to one month's rent
Pets
Cats Allowed – Call for details
Small Dogs Allowed – Call for details
Pet deposit required
All Utilities Paid
Water Included
Trash Pick-up Included
Electricity Included
Gas Included
Heat Included
Resident Pays:
-Phone Service (low-income reduced rate available through KanOkla)
-Satellite Service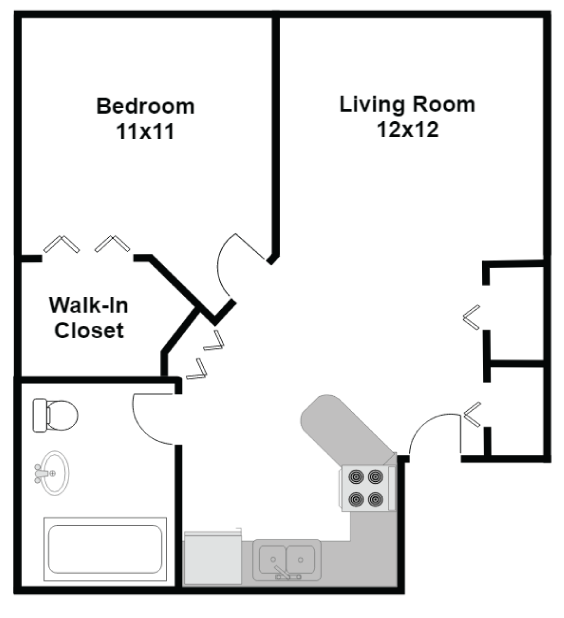 Spacious Floor Plan
Each apartment is well-appointed with a spacious living area, kitchen with a built-in breakfast bar and lots of storage space.
Enjoy central air conditioning, oven, range, refrigerator and garbage disposal. All utilities are paid including water, trash, electricity, gas and heat. Laundry facilities are conveniently located inside the clubhouse which also features a banquet room, rec room and 38-inch smart TV.
The Convenience of Small-Town Living
Experience small-town living at its finest conveniently located near everything the town has to offer including a grocery store, unique shopping, churches, doctor's offices, hospital, library, pharmacy, post office, dollar store, restaurants, schools, parks and more.
This community, situated astride the Chisholm Trail, has a rich cowtown history and is the proud host of several community festivals and celebrations including the Chisholm Trail Festival and Sumner County Fair. Click here to learn more about Caldwell, Ks.
Come Take a Look!
Spacious, yet homey and affordable! We invite you to come take a look. Call today to schedule your visit.
The complex is a Section 811 Project with eligibility criteria. Eligibility and rent is based on HUD requirements for subsidized housing. We would be happy to walk you through the steps to make Northfield Apartments your new home. 
We have a Tenant Selection Plan detailing eligibility criteria which is available for review. We are an equal housing opportunity. 
Contact Us For More Information!
Eligibility/Application: Melissa Janzen, 316-369-0166
Apartment Manager: Dawn Stevenson, 620-845-6595